Let the sharing & the beauty begin!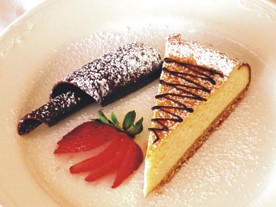 Vanilla Valentine Cheesecake
I tasted something like this at a chain restaurant and just found this on Facebook. I haven't tried yet, sounds complex, but heavenly. I think Ashton would take the time to make this for her love, don't you? Please let me know how it works out for you.
Triple Vanilla Cheesecake
Vanilla graham cracker crust, vanilla bean cheesecake, white chocolate mousse, vanilla bean whipped cream.
CRUST:
1 1/2 cups finely crushed graham crackers
1/4 cup sugar
1/2 cup butter, melted
1 egg yolk, beaten
1/4 teaspoon vanilla
Crush the graham crackers. Mix in the sugar. Add the egg yolk and vanilla, then stir in the melted butter. Line a springform pan with non-stick foil. Press graham crackers into the pan. Bake at 375º for 8 minutes or until edges are slightly brown. Remove and let cool.
(This recipe takes quite a while to make, you can cheat and buy a pre-made graham cracker crust – but it may not be as yummy!
CHEESECAKE

16 ounces cream cheese, softened
1 cup sour cream
2 Tablespoons corn starch
1 cup sugar
2 Tablespoons butter, softened
1/2 teaspoon vanilla
vanilla beans from one pod
Combine cream cheese, sour cream, corn starch and sugar, mix until sugar is dissolved. Add butter, vanilla and beans, blend until smooth. Don't overmix.
Bake at 350F 30 to 35 minutes. Cool 1 hour.
WHITE CHOCOLATE MOUSSE
1 cup whipping cream
2 Tablespoons powdered sugar
4 ounces 1/3 less fat cream cheese, softened
4 ounces white chocolate baking squares, melted
In a cold mixing bowl beat cream until soft peaks form. Gradually add powdered sugar until stiff peaks form. Put this in a bowl in the fridge. Don't wash your mixing bowl, beat the cream cheese in it, until fluffy. Add the white chocolate and beat until smooth. Fold in the whipped cream.
VANILLA BEAN WHIPPED CREAM
1 cup whipping cream
1 Tablespoon powdered sugar
Beans from one vanilla pod
In cold mixing bowl, beat whipping cream until soft peaks form. Gradually add powdered sugar and then vanilla beans, beating until stiff peaks form.
After the cheesecake has cooled spread the mousse evenly on top. Refrigerate for about an hour then spread the whipped cream on top. Refrigerate several hours before serving.
NOTE: Each slice has about 750 calories, so share it with your love!